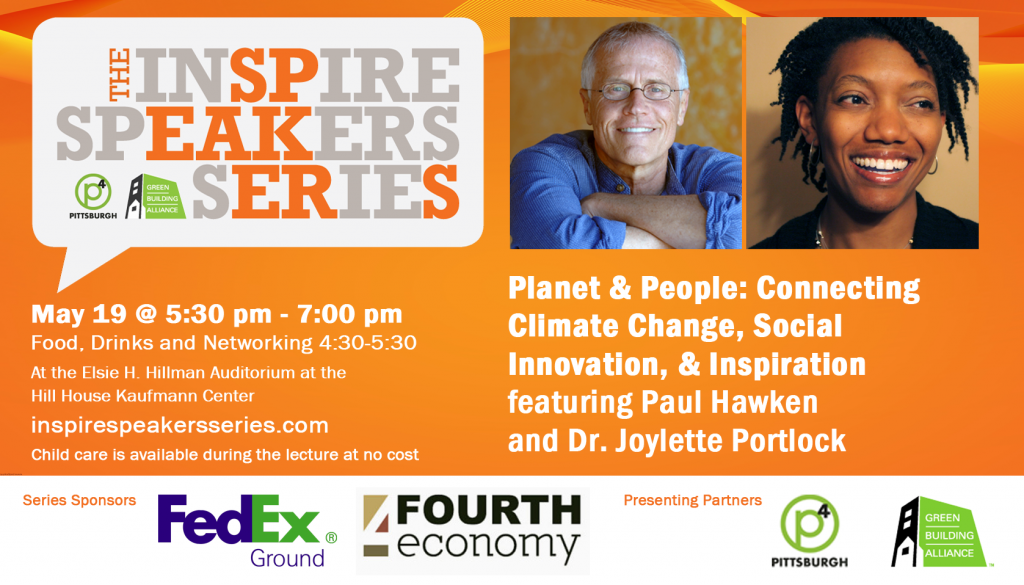 I have had the privilege of hearing Paul Hawken speak on four different occasions, and each time he delivered a powerful, beautiful message.  I always left feeling inspired with new ideas, perspectives, and ways of seeing the world.  Here are a few reasons why I think you should join us this week and see for yourself why he is considered one of the top thought-leaders in sustainability…
1. Paul is known by many as someone who inspired the corporate social responsibility and sustainability sectors.  As an author of best-selling books and a social entrepreneur, Paul's work has influenced how we do business in the private, public, nonprofit, education, and government sectors.  The late Ray Anderson, CEO of Interface Inc. (a large carpet manufacturing company), described the impact of reading Paul's message in Ecology of Commerce as a "spear in the chest".  This experience changed Ray Anderson's thinking, and he began Interface's quest up "The Summit of Mount Sustainability", or Mission Zero, with inspiring goals aligned with the business case for sustainability (check out Ray's TED Talk).  He went on to become known as one of the greenest CEO's in the country, and inspired many others to follow. Interface is now joined by companies across the world that have strong corporate social responsibility efforts, including many here in the Pittsburgh region including PNC Bank, BNY Mellon, Highmark, FedEx Ground, and Ductmate, to name a few.  Leaders in business see corporate social responsibility as being integral to operations, employee health and happiness, stakeholder engagement, and innovation for a better world. In addition to the private sector, many leaders in the nonprofit, public, and education sectors have adopted the values of sustainability as core ethos and business practices.
2. His new endeavor with Drawdown is a realistic, optimistic, and empowering view of our climate future. It's not often that we associate the words "optimistic", "realistic", and "empowering" with climate change, but Paul's work with Drawdown has found a way to do just that.  A coalition of researchers, scientists, students, policy makers, business leaders, and activists are working together to identify solutions with associated climate and financial models of potential impact over 30 years.  You will learn about solution-based approaches in various categories, including renewable energy, building efficiency, transportation efficiency, land use and biosequestration, material reduction, and population. Many of these solutions are inspiring social innovation.
"Climate change is begging you to dream, not hide. It's time to come together and collaborate." 
3. In his writings and presentations, Paul has a beautiful way of connecting the world's most pressing issues. He describes the interconnectedness of social, environmental, and economic challenges facing us today.  At a young age, he worked in the civil rights movement as a press coordinator for Martin Luther King, Jr. and a staff photographer for the Congress of Racial Equality.  This work deeply impacted his life-long commitment to social justice and environmental activism, two areas that he views as inseparable.  Paul's efforts with Drawdown go beyond just addressing climate.  The solutions impact communities and economies by improving lives, creating jobs, enhancing security, and advancing human health.
"Everything is connected…No one thing can change by itself."
4. Sometimes we all could use a little inspiration to help us reconsider what is possible for the future. Paul's thoughts will help us dream about new possibilities.  You just need to show up with the willingness to reimagine.
"Inspiration is not garnered from the recitation of what is flawed; it resides, rather, in humanity's willingness to restore, redress, reform, rebuild, recover, reimagine, and reconsider."
Join us in celebrating the finale of our fourth Inspire Speakers Series season with inspirational talks by Paul Hawken and Dr. Joylette Portlock, community building, idea sharing, and lots of great food and drinks!  Learn more and register.
We hope to see you there.
All quotes by Paul Hawken