The Inspire Speakers Series lecture on April 14 was an energetic, moving discussion about balancing education, economics and equity. The words "transformative," "triple-bottom-line," "equity" and others have all become buzzwords. Emcee Majestic Lane challenged us to think about what they actually mean? How do you put them into action? How do they all connect? Through a balanced approach of looking at society, environment and economics, according to Steve Shelton and Joe Van Belleghem.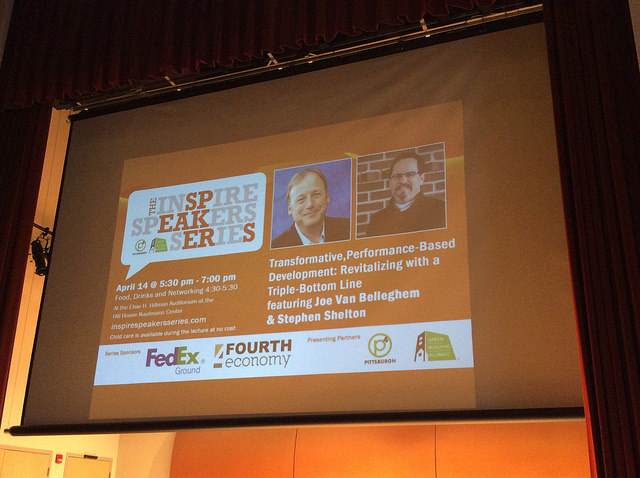 Trade Institute of Pittsburgh – Rebuilding Lives as They Rebuilt the City
Steve Shelton has changed lives and people's stories through his work with the Trade Institute of Pittsburgh, teaching people skills that they can teach to each other that provide access to opportunity. As owner of his own construction company for many years, Steve saw a problem: there's not enough manpower to repair, replace or restore our infrastructure, and it's difficult to find good, quality, confident help, he said. "Somewhere along the way, society gave up working with their hands."
When thinking about turning his company over to his son in the future, he also thought about all the restoration work he's done in communities around Pittsburgh, and about all he learned from his coworkers, particularly the "old timers" – "I learned everything I know by watching the old timers. You don't learn in the classroom as well as you do on-hand," he shared. Workers are getting older, and there are no young workers coming in to replace them. When he turned the company over to his son, who would be there to do the work?
Someone had to cultivate the next generation of bricklayers and masonry workers, and Steve stepped up to the plate. He got his own space, put people to work on his own building, and got people jobs. Then, he ran out of money and closed the doors. He borrowed money, brought in more guys, got them jobs, and had to close his doors again. The third time was a charm, when someone saw the value of his operation and invested, and the Trade Institute of Pittsburgh was solidified.
Today, the Institute is a one-week masonry course, during which time Steve works with each student to help them discover where their talents lay. They learn to lay the wall, build it up, tear it down, and reuse the same materials to do it all over again. Steve tells each student, "This is free of any monetary charge, but it's going to cost you the price of change. Whatever it is you need to change in your life, if there is something you to come out from under, this is the place. I don't care what you're coming out from under. Let me see what you've got. Let's put some tools in your hands." After a three-day trial, they agree to a very simple 10-week contract – no drugs, guns, booze, foul mouth or disrespect, and 10 weeks of hard work.
How does the Trade Institute tie into the triple-bottom line? It costs $50,000 per year to keep a person in jail. By keeping them out of jail and getting them a job, they pay taxes and spend their paycheck in the community. Furthermore, collaboration heeds advancement. Beyond helping people learn a trade and get on their feet, Steve has taken it one step further. Students from Carnegie Mellon University come and work alongside Trade Institute students, becoming friends, creating and building innovative things together – what an incredible experience, all around. In the future, they'll be working on taking down vacant structures and reusing the materials for other projects, preventing them from going to the landfill and putting the property back on the tax base.
The most inspiring part of listening to Steve's journey is learning where his own inspiration comes from. "Teaching them a trade is one thing," he said, "but helping them if they're coming out of jail after 10 years and have no support system or driver's license and a ton going on, who's helping them? This is all part of what we do. We help them navigate life to get back on their feet. Teach them a trade. We take a student from zero to a self-sustaining living wage in 90 days." You can imagine the roar of applause that came from the crowd in response to that. But then, it got better.
"I have to be inspired myself in order to be an inspiration to you, or anyone else. I can tell you about what inspires me, or I can show you what inspires me," he said. And with that, a thirteen men unexpectedly stood up, scattered throughout the audience, and walked up onto the stage.  His inspiration is his students, and at that moment, there was not one person who didn't feel moved and inspired among that entire standing ovation.
Sustainable Urbanism – A Developer's Perspective
As a private developer for nearly 20 years, Joe has developed projects across the globe – from Chicago to London to Canada to Australia. The challenge, he noted, is to develop projects that preserve the character and diverse aspects of the cities we love. The solution, he offered, is to understand a community's context and identify the experiences the "users" (customers, tenants, neighbors, community) are after, then build the hardware to house those goals.
Joe talked about each piece of the triple-bottom-line: economy, society, and the environment. The economic consideration is the ability to retain, attract and grow businesses. A robust educational system must be present to support the businesses, with next-generation types of companies to attract the students, including maker spaces for new industries to grow. The social spectrum centers around community and culture, including protection of heritage, creation of a sense of community, and funding to replace and enhance cultural facilities. It speaks to transportation, walkability, and livability, and the need for social infrastructure like recreation centers, playgrounds, and libraries. The environmental piece protects the Earth, emphasizing energy efficiency and independence. From climate change policies to stormwater infrastructure to biodiversity, and everything in between, Joe made sure to stress that sustainability is not just about the environment.
He talked about how the platform is changing. Residential tenants no longer seek luxury finishes, large units and premium views. They want affordable, "culturally unique environments that promise a sense of community with thoughtful design" and local neighborhood retail. Office spaces are no longer just about renting brick and mortar. There's a rise in desire for team-based working approaches, designing spaces that give freedom of choice and better enable collaboration, that are comfortable, engaging, efficient and healthy. In retail, it's no longer big boxes that drive traffic. It's about curating retail, creating a social hub with a contextual experience. It's about shared value – hosting community events or types of classes, something to bring a shared value and active public realm.
Joe follows eight principles when developing and engaging with the community:
The public realm: Make the first 40 feet of space count.
Tenating: Maximize the value of the whole project rather than individual pieces – understand the retail that's actually wanted in developments.
Operations – Build a software model for the buildings and the ground floor, and then design from the inside-out – what experiences do the users want to have? Design for the software, then build the hardware.
Sustainability – Make it an integrated part of design that is experienced outwardly – nature, water, health and wellness, community development, resilience and adaption, etc.
Form in context – Design projects that respond to contextual challenges or opportunities of a community and city – design to the river, deal with stormwater, consider a riverwalk system, incorporate green roofs.
Elicit feedback and build partnerships – Start by flipping the community engagement process.
Test early activation strategies – Inspire and surprise through events, popups, art, and placemaking strategies – show people why the project provides so much value.
Make it custom –Design architecture that reflects the creativity of a place – custom benches, unique design, give it character. Be contextual, not pricey.
My favorite quotes from the evening:
"We're at an important time in Pittsburgh. We're thinking and inspiring and talking. We're seeding ideas in each other so that we can go and do it. Now is the time. We have the people and we have tools and we can measure the performance. We need to do it for the planet. So let's go ahead and do it." – Aurora Sharrard, Executive Director, GBA

"If you start to connect people back to nature, they care more. We have an obligation to bring it back into our cities so our children and families learn to love nature. It's been taken out of our current society." – Joe Van Belleghem

"I have to be inspired myself in order to inspire you." – Steve Shelton

"Find a way to do good and do well." – Majestic Lane
Check out the twitter conversation using #inspirespeakerspgh