---
---
---
Green Building Alliance and p4 Pittsburgh Present: Inspirational Stories about Creating a Sustainable, Vibrant, Healthy, and Just Region
February 11, 2016 @ 5:30 pm

 

–

 

7:00 pm | Food, Drinks, Networking start at 4:30 pm
Elsie H. Hillman Auditorium at the Kaufmann Center, 1825 Centre Ave.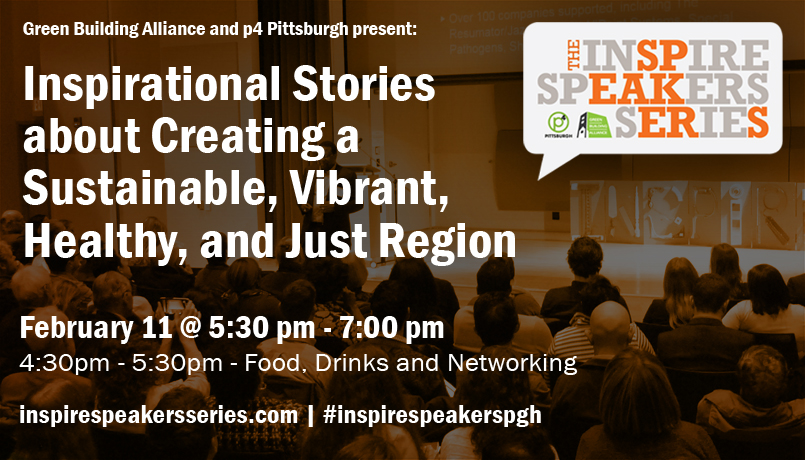 Storytelling is our way of expressing the soul of our community to one another. Stories expose our beliefs, emotions and vulnerabilities that can connect with people in ways that facts and statistics can't. Stories foster empathy, remind us of what it means to be human, and challenge us to be the change we seek.
Join us to hear stories from citizens who are working to create sustainable, vibrant, healthy, and just places for us all to live, work, learn, and play. This Moth-style and TED-like event will dare us to dream big about what is possible for our communities, projects, and places. Speakers include:
Leah Lizarondo is one of the reasons that Pittsburgh is growing to be a healthier city and is one of the most visible and vocal advocates for healthy food in the region.  Leah recently co-founded the nonprofit 412 Food Rescue, an innovative organization that fights hunger and waste.  She also writes about food and health in her popular blog The Brazen Kitchen and promotes Pittsburgh's booming food scene and culture through her award-winning writing. In 2014, Leah gave a TEDx talk, "Why the farm is not getting to the table" and tackled challenges in our education and food movement that we need to address to truly move the needle in changing our health.
Muffy is a mom. She is a mom who happens to have a Bachelor's Degree in Communications from Point Park University; who has presided over a $10,000 budget to run a year-long program focused on helping moms develop effective nurturing and mothering skills; and, who runs a support group of over 100 mothers of color in the Pittsburgh region.  But, in her truest essence, Muffy is a homeschooling mother of three and wife of one great man who is extremely dedicated to helping sistahs become the best moms they can be.
Tess Wilson is a Kansas native who replanted herself in Pittsburgh in order to pursue an MFA in Creative Writing at Chatham University. Though she earned her degree in 2015, she has decided to stick around and serve an AmeriCorps term with Reading Is Fundamental Pittsburgh. In addition to this, she currently serves as Assistant Editor at Hyacinth Girl Press, a member of the Schweitzer Fellows For Life Council, and has just been accepted into a Library Science Masters program at the University of Pittsburgh.
Mark Dixon – Filmmaker, videographer, photographer, and media consultant at Blue Lens.
Mark Dixon is an award-winning filmmaker, activist, and public speaker exploring the frontiers of social change on a finite planet. Mark graduated from Stanford University in 1997 with a degree in Industrial Engineering. As evidence for global warming and resource depletion moved into prominent view on an international scale, Mark decided to refocus his life and skills on tackling those issues, co-launching YERT – Your Environmental Road Trip, which ultimately became a feature film. Most recently, Mark created the film, "The Power of One Voice: A 50-Year Perspective on the Life of Rachel Carson." A citizen of the world, Mark has lived on three continents and visited 26 countries, particularly enjoying a year in Tokyo, Japan.

Stephen is the Outdoor Education Coordinator, PE Teacher and School Nurse for the North Hills Campus of Winchester Thurston School.  Steve has had an eclectic career path ranging from AmeriCorps volunteer, Outward Bound instructor, forest fire fighter, and special education teacher on the Navajo Reservation. Steve is also the father of three children, who have provided critical experience to the challenge of working with elementary school students.
Christian J. Hughes is a native of Detroit, MI, and is the founder and coordinator of Drafting Dreams, an educational service that educates students Kindergarten through 12th grade on principles of architecture and urban design, through creative design exercises and design curricula. He is also Project Manager for Unity Consultants, where he works with a skilled team of professionals to: review broken systems and create strategies that enhance operational capacity that lead to stronger institutions and improved neighborhoods through a lens of sustainability.

Terri Baltimore – Director of Neighborhood Engagement, Hill House Association
Register Now
---